Our Vegan Gifts for Women Over 40 brings has wonderful and unique ideas to end 2021 strong and begin 2022 full of energy and positivity. 
The holidays are just around the corner and 2021 has been a challenging year in many ways. Regardless, we need to take care of ourselves and try our best to remain positive because ultimately it's better for our health!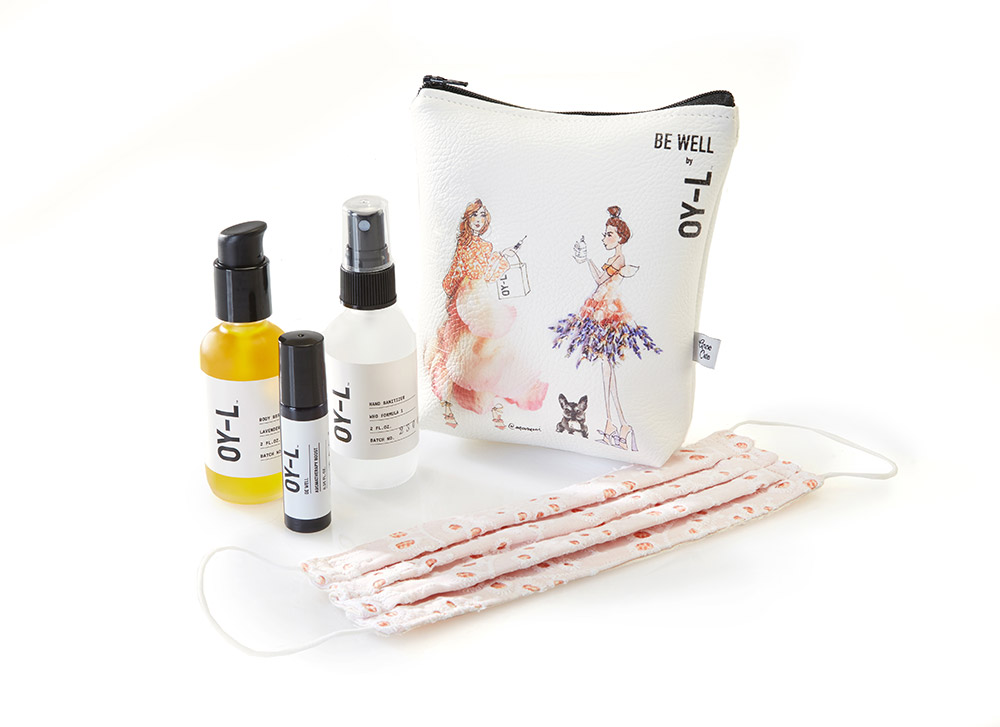 1. It's like your mini 2021 survival kit that includes your basics. Be Well Kit contains a plant-based hand sanitizer, a body serum to relieve dryness, an antibacterial powerhouse in a roll-on for an aromatherapy boost and a cotton face mask- all bundled in a signature reusable pouch.
$45 Shop Be Well Kit from OY-L 
2. The Positivity Candle from Scentsability will help with your state of mind. Light it up for a gentle reminder for the light you wish to be for the world. Based in South Florida, Scentsability provides training and work for adults living with intellectual and developmental disabilities (I/DD). A blend of fresh mandarin and bergamot with water lily, lemon blossom, driftwood, musk, and amber, creating a scent reminiscent of blue skies, energizing you to increase the POSITIVITY in your day.
$25 Shop Positivity Candle from Scentsability
3. This stylish bag is made from recycled water bottles. They have several other wonderful designs, but this one has the perfect size and shape to wear daily or to a special occasion when we go back to doing those things. 
$135 Shop Labante USA Cross Bag
4. This is my favorite planner and I have been using this for the past 3 years. Some of my favorite features are the weekly motivational quotes, a personal and work list because we need to not just work, but also take care of ourselves as people. The other great thing is the monthly reflections section. This planner is perfect to live life with purpose. 
$1 for every planner sold will benefit charity: water, a non-profit organization whose mission is to bring clean and safe drinking water to people around the world through community-owned and sustainable water projects
$35 Shop Passion Planner in Pacific Blue 
5. No list would be complete without Aromalief. Our brand has been steadily growing thanks to the wonderful support of our customers. Our Aromalief Day & Night Gift Set that comes in a beautiful box and ready to gift. This is the perfect gift for a wonderful and caring person that may be stressed and suffering from aches and pains.
$64 Shop Aromalief Hemp Pain Relief Creams Day & Night Gift Set
These amazing Vegan Gifts for Women Over 40 are perfect for giving to others or even for yourself. 
GIFT GUIDE BLOG POSTS
If you liked this blog post, here are the other most read posts on our site that you may be interested in.
Gifts you Should NOT Give to People with Chronic Illness
AROMALIEF FREE RESOURCES
This pain tracking sheet is a simple to use form that you can print several copies and put them in a binder. You can fill it out throughout the day or every night with a warm cup of tea. Writing things down can also help to get them out of our mind.
This guide contains what we believe are essential tips to to live your best life with the help of nature. This includes: Foods, aromatherapy, meditation, routines, sleep, exercise, self care, and more. We made this guide with the hope that it will give you a starting place and push you towards living a more balanced and overall healthier life!